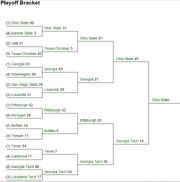 College Playoffs
Edit
The winner of each conference will receive an automatic playoff bid.
The five remaining playoff spots will be filled by "at-large" teams. These will be the highest ranked teams according to the combined rankings who did not win their division.
Playoff seeding is determined by a team's combined ranking score. In other words, a team that did not win their conference may have a higher seed then a conference champion.
The playoffs are single-loss elimination, and no team gets a bye week.