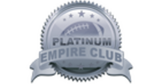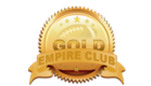 What is EMPIRE CLUB (EC)?Edit
The Empire Club is open and awaiting new members. There are 4 current levels of Empire Club; Bronze, Silver, Gold, and Platinum. The Empire Club is a pay subscription that includes the following feature and benefits:

An Additional 15 hours at rollover for silver, 25 for gold, and 40 for platinum!
A 2nd coach per account for silver, 3 for gold, and 4 for Platinum. (can add existing multi) (can not have coach at 2 pro teams)

Ability to import plays from your 2nd coach. (Costs 8 hours but you don't have to re-active the play if it's active)
Shortcut links in play by play, scoring summary which take you directly to the play to watch.
ESN-Classic to watch select games from previous seasons
E-Sat satellite package which allows you to watch ANY game from anywhere (and you can LPC from anywhere)
See stats and scores from previous seasons
See recruiting results from past seasons
Priority when scheduling practices (your practices run sooner)
A pretty little logo on your coach page to let everyone know how special you are!
Ability to see high school players' true 40 time and bench press
Import coaches from other accounts
And MORE to come...
Empire Club is a monthly subscription available in 3 month packages and will automatically renew unless you cancel.